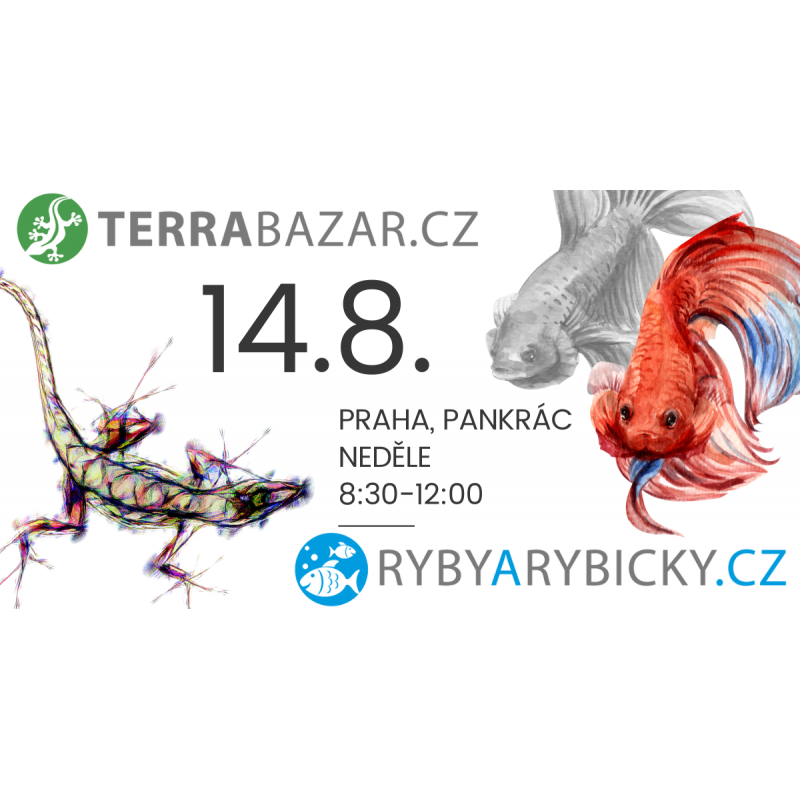  
14.8. 2022 Tickets for Ryby a rybičky
Ryby a rybičky tickets for 14.8. 2022 (from choosed time until 12:00)
Online tickets have priority for entry than tickets by cash.
Action is connected with teraristic action TERRABAZAR, you will get free tiscket for TERRABAZAR with purchasing ticket for RYBY a RYBIČKY.
More information on: www.rybyarybicky.cz 

Better prices than in pet store

Quality animals directly from breeders

Recommendation directly from breeders
Choose time of entry to action and please will keep it.
More information about action on www.rybyarybicky.cz
The organizer has the power to canceled or changed date of action. 
Children under 15 and people with disabilities have free entry.
Payments for tickets non-added to our bank account until 12 hours before action will be cancelled. In cased of payments by payment order, please contact us on our email rybyarybicky@rybyarybicky.cz - in this case is posible to wait.


We look forward to you!
Team Ryby a Rybičky
Data sheet
Fish directly from breeders

Yes

Flowers Directly From Growers

Yes

Suitable For Aquaristic Beginner

Yes

Suitable For Professional aquarister

Yes

Aquaria and equipments

Yes

Quality Feed With Better Prices

Yes

Free Professional Consultation

Yes

Quality Roots

Yes